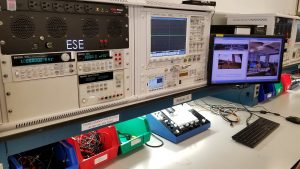 ---
The approach of this state-of-the-art laboratory is to bring computers, instruments and software closer together in such a way that it will allow students to function in a manner similar to that of professionals in industry and academia.
Lab equipment includes desktop computers/industry software, oscilloscopes, power supplies, waveform generators and more.
Equipment List
Keysight MSO 7034B scope. Suggested tutorials (needs Keysight account signup) Probe Tutorial 1, 2
Keysight 3631A Triple Output Supply
Keysight U8002A Single Power Supply
Keysight Arbitrary Waveform Generator 33521A
Keysight Function Generator 33120A
Keysight DMM 34401 A
Please ensure that you use all lab equipment responsibly. It is also best to work with a partner after hours.
---
In addition to the instruments associated with each lab workstation, the ESE Undergraduate lab has a wide range of other instruments and tools available.
Consult lab faculty with questions regarding equipment use